TUSCARORA PICKLEBALL
Pickleball Social
This Saturday at 5:00 PM will be our first official Tuscarora Pickleball Social. If you've signed up, it's expected that you have committed to attending because others have been turned away. To expedite the process please bring $15 in cash, but a credit card or check is fine.  If you are a new player to Tuscarora, please download the liability form, complete and bring it in with you with payment. Things to bring: There will be tables available to place food items on to share. Bring drinks of your choice. Consider bringing a camp style chair to set up on the courts when you aren't playing. Play – When you enter you will be assigned two courts that you will be competing on. When courts are filled, have a seat nearest the lobby windows. Games will be played until one team reaches 11 points.
Sigh up at https://playtimescheduler.com
Our Pro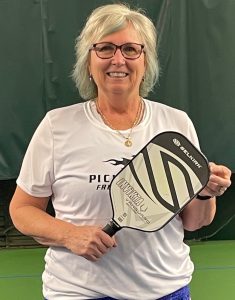 Kathy Scott
Bio
Kathy is an Ambassador for USA Pickleball for the Mid-Atlantic Area, and is certified by the Professional Pickleball Registry (PPR).  She has been a tournament player since 2018 and has earned multiple gold and silver medals in competitions.
Kathy has over 30 years of teaching and coaching experience at both the high school and college levels in multiple states.  While in Atlanta she competed in USTA, and worked with the Olympic and Paralympic Committees as the Volleyball Assistant Competition and Competition Manager, respectively.
"I love that pickleball is fun from the first time you hit the ball and can be very competitive or social."  Kathy also says she is "excited to be working with Tuscarora which has embraced pickleball and has the best indoor facility in the area."
Welcome
Pickleball is in full swing at Tuscarora these days, and we are pleased to welcome Kathy Scott, our first Pickleball pro. She is focused on improving stroke mechanics, the mental aspect and game strategies, and enjoys working with all levels of players.